On today's episode, we had a chance to interview DaYaShA. I asked him about his role in FIGHTNATION EX, how he feels about SSFIV, hes views on EVO & E3. *NOTE* I am trying something new with my audio interviews, hence creating this site. Please feel free to voice your opinion on the move. Thanks
DaYaShA has been around for a few years in the FGC tournament scene for a while now. Fighter's Fury got a chance to sit down and talk to him. During the interview, you can tell he's a funny and down to earth type of guy. Dayasha explains how he came to be and how he got GodLike with Chun-Li in Third Strike and in SSFIV.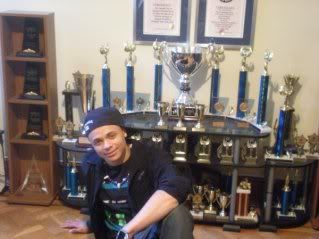 Daysha is also a know SFIV / SSFIV Youtube personality. DaYaShA has a lot of videos from him playing various games, playing his guitar and vlogs of himself & his family. Please feel free to check out his channel, so you can see more videos like this;
DaYaShA during the interview was quite entertaining to say the least. Dayasha basically express his displeasure for Super Street Fighter IV and how SF: 3rd strike is the best Street Fighter ever created. He also show his disgust with SFIV's producer, Yoshinori Ono.
During this time, DaYaShA coined the phrase, "I can't stand me some Ono!" This is where he decieded to create a T-Shirt with that phrase on it (thanks to your's truly). Dayasha also gives his theories on what he can do better then Ono if Capcom comes out with Street Fighter V.
During the interview, we started to discuss his gamer group website, Fight Nation EX. DaYaShA explains how FightNationEX is an up & coming gamer group, along the lines of DMG and Empire Arcadia. FightNation EX is trying to raise up the ranks and be one of the best gamer groups out there. Dayasha also explain the website from the chat box, to the forums even to the FightNationEX online store which is coming real soon (with the "I can't stand me some Ono" T-shirts).
Dayasha also explains on how a good, if not great fighter gamer can join FightNationEx's roster. If you listen to the podcast, you can hear the passion in his voice, as far as how he want to get great gamers to join his organization. If you get a chance, go check out FightNationEX
website
.
At this time during the interview we talk about;